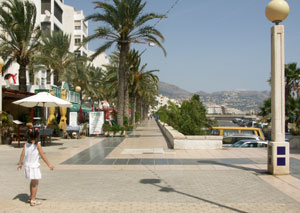 Influenced by the sea, the town of Altea contrasts the ancient cobbled streets of the old town with one of the Mediterranean's finest palm lined promenades.
Enjoy relaxing and taking in the atmosphere whilst enjoying a meal at one of the town's fine restaurants. Altea nestles between the Sierra Bernia mountains to the east and the Sierra Helada of Albir To the left.  A magnificent curving coastline with the dramatic contrast of the mountains makes it an exciting place for walkers. The "Costa Blanca Mountain Walkers" meet twice a week with an easier walk on Saturday.
Take a stroll around the old town and explore the narrow streets with their craft workshops and art galleries. Admire the breathtaking views from the Plaza de la Iglesia church square. The panoramic views stretch over Altea town, the esplanade and the sea. Visit the La Plaza bar in the square or try one of the many intimate restaurants like El Perro Negro, which is famous for its oysters and not to be missed. In fact Altea has an abundance of fine cafes, and restaurants serving fine paellas, tapas and dishes from many other cuisines. For something different try the Bodegon de Pepe along the Calpe end of the promenade. They've been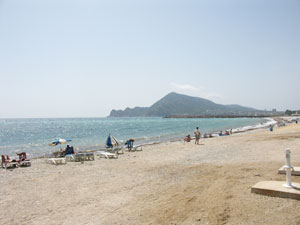 serving only crispy sardines with spiced broad beans and beer and wine since the 1930's and are always popular. The wide pebble beach stretches from La Olla island to Albir and the town boasts a spectacular firework display in August.
On Tuesdays the Altea market is worth a visit. It is one of the largest markets on the Costa Blanca and selling everything from fruit and vegetables to clothing and home furnishings. Altea harbour is a little further along with its 360 moorings and boats from around the world.
The luxury sports boat harbour of Luis Campomanes is beside Pueblo Mascarat, along the coast towards Altea Hills and Calpe . Many hours can be spent watching the magnificent boats and sipping the local wines.
Take in the scenery, play golf, sail, walk cycle, swim explore, sunbathe, Visit the local attraction parks or just wine and dine and chill. You will not be disappointed.